Almost a quarter century ago, I was the founding Editor in Chief of music choice, a magazine like no other in that it covered all kinds of music, not just, say, rock, country, pop or hip hop. In the history of magazines, there had never been one that aspired to cover all musical genres, including outliers opera, jazz and folk. But how? A country music fan probably wouldn't buy (or read) a publication covering hard rock or electronic music and vice versa. So, when the television network Music Choice tasked PressCorps, a New York City-based magazine company I co-owned with my business partner, George W. Slowik, Jr., with that very challenge for a new publication they were bankrolling, I had what I felt was an inspired idea: Since, yes, no one wants to read about country music and hard rock in the same magazine, why don't we make that magazine about music superstars in those genres? I argued, successfully as it turned out, that there would be a considerable audience that would care a lot about big celebrities who excel in the different music genres. A magazine about country, pop, R&B, rock and hip hop could suddenly become the cool, must-read publication full of world exclusives with the planet's largest superstars: Tim McGraw! Celine Dion! Steven Tyler! Joni Mitchell! Cher! Needless to say, we got the gig.
BY RICHARD PÉREZ-FERIA
We launched music choice with an unbelievable cover story by the great Details scribe Stephen Saban on country music demi god Garth Brooks, who was in Manhattan the summer of 1997 preparing for his highly-anticipated free concert in Central Park (the magazine's premiere cover featured a brilliant illustration from Vanity Fair's genius artist, Robert Risko, depicting Brooks atop the Empire State Building à la King Kong—amazing). We went on from there and secured any number of hard-to-get exclusives in all music categories. Usher, Gloria Estefan, Gary Barlow, Gladys Knight, Rob Thomas, Lisa Stansfield, Jonny Lang, Shania Twain, Isaac Hayes, Robyn, Arturo Sandoval, Trisha Yearwood, Tony Bennett, Alanis Morissette, Eartha Kitt, Duran Duran, Debbie Gibson, Diana Krall and on and on and on. [Fun Fact: PuraPhy Design Director Kathleen Gates was the Design Director of music choice as well. Cool, right?]
One of my favorite stories we did for music choice was an interview with the extremely popular Americana/country band, The Mavericks. In 1997, the good time band, led by its honey-voiced front man Raúl Malo, was just coming off its best year that included a Grammy Award for the song "Here Comes The Rain" which was followed up by the smash "All You Ever Do Is Bring Me Down," two of the many hits written by Malo (he's also penned "What A Crying Shame," "Dance The Night Away," "Back In Your Arms Again" and many more). The Mavericks were in the middle of their "Tour For All Occasions" when we caught up with them. It was a good time to be sure.
Malo and drummer Paul Deakin are the only members of The Mavericks that have been in every iteration of the band since its inception in 1989. The Mavericks, like so many bands experience, had several years-long breakups only to invariably reunite to achieve greater success. The last such relaunch of the band occurred in 2012, and they've been on an upward trajectory ever since.
"I think just about everything about this particular era is unfamiliar. The challenges are trying to keep the lights on and making sure that you have a business to return to. Easier said than done, of course. You also want to be a good citizen and contribute where you can and help others along the way."
In 2019, The Mavericks released Play The Hits, an entire album of covers as a tribute to artists who've inspired them on The Mavericks' 30th anniversary as a band, and, most recently, released what's arguably their most ambitious (and risky) effort, the all-Spanish album, En Español. Malo, who like me is Cuban-American who grew up in Miami, put it this way. "You know, it's like we've had three different lives, and now this is a whole new beginning," he said. "We're sort of going into uncharted territory. I'm looking forward to it and I'm kind of nervous about it, too. It's certainly a new adventure."
En Español was produced by Malo and the band's long-time collaborator, Niko Bolas, who has worked with the likes of Neil Young, Prince and Sheryl Crow. So, did the gamble pay off? After five Top 10 country albums, The Mavericks topped Billboard's Latin Pop Albums chart in the first week of En Español's release. The album has been a smashing success.
Furthering my connection to The Mavericks, I've been friends with the band's longtime co-manager, Michael Reynolds, for many years (we share a penchant for late-night socializing in VIP bars), so when he reached out to not only tell me about what the band was up to, but to tell me about Malo's enthusiastic use of CBD products, I knew I wanted to chat with the legendary vocalist.
I've always been curious about Malo and his famously free-wheeling, swaggering style that seamlessly blends neotraditional country, rock 'n roll, and Latin rhythmic fervor, highlighting his unmistakable, soaring baritone. If you can believe it, when he first started out, Malo was headlining all the hot punk clubs in Miami Beach. So, yeah, we can say the dude has musical elasticity and range. That's also why I love The Mavericks so much. They simply refuse to go away and, better yet, they reject any attempt to be pinned down to any particular genre. The Mavericks, in a way, embody the band version of music choice: They're country, pop, rock and Latin. Not too many bands—or Grammy Award-winning vocalists—have that going for them.
So, let's check in with Raúl Malo, who, incredulously, may just be the music industry's three decade-long best kept secret hiding in plain sight. I'm happy—and so ready—for The Mavericks' well-earned newfound attention.
[Editor's Note: This interview was conducted before Mavericks trumpet player, Lorenzo Molina, and his friend, Oscar Morales, were assaulted in early October 2020 at a Franklin, TN bar for having a conversation in Spanish. The crime remains under investigation.]
First of all, how two Cuban-American dudes like us never met before is kind of crazy to me. Particularly, since I've been around celebrities and the music industry my entire adult life—not to mention that The Mavericks' co-manager, Michael Reynolds, is a longtime friend. How did we miss each other in the trenches?
You were hanging around with celebrities; Reynolds, too. That's what's wrong with you guys. [Laughs]
We'll get into more specifics in a few minutes, but, for the uninitiated, I describe The Mavericks as a world-class, kick-ass immersive live band experience—a cross between Jimmy Buffet and Bruce Springsteen and The E Street Band. Fair?
I think that's a good mix; that's a pretty fair description. I think we bring a rock 'n' roll energy and blend it with a mojito or a margarita!
"Hitting a joint with 'Willie' [Nelson] in the basement of the Library Of Congress. Yeah, that was cool."
The Mavericks have been around since 1989, with major years long breaks in between. Has COVID-19 challenged the band in familiar or unfamiliar ways?
I think just about everything about this particular era is unfamiliar. The challenges are trying to keep the lights on and making sure that you have a business to return to. Easier said than done, of course. You also want to be a good citizen and contribute where you can and help others along the way.
What's been the coolest moment/celebrity anecdote you've personally experienced, either with The Mavericks or during your solo years? We want to hear about your "pinch me" moments.
Hitting a joint with "Willie" [Nelson] in the basement of the Library Of Congress. Yeah, that was cool.
Loving the new album, En Español. Why a Spanish album now? Did you feel more connected to your heritage? I asked this question years ago to another Cuban artist, my friend Gloria Estefan right after she released her Spanish-language masterpiece, Mi Tierra. For her, the answer was obvious for all to hear on that record.
I've always felt connected to my heritage. The title song of our first record for MCA was From Hell To Paradise, which was a phrase that my aunt used to describe her journey from Cuba to the United States. This record has been a long time coming. It's been one of those projects that when we set out to do it a few years ago, the only thing we promised ourselves was that it wasn't going to be put on a time limit. When it's done, it's done. And we used every available minute to finish it. The songs "La Sitiera" and "Poder Vivir" were recorded on the last few days in the studio, back when you could still do that, pre-COVID.
The truth is, En Español is the record I've been wanting The Mavericks to make for a very long time. As you know, I'm a first generation Cuban-American, and some of these songs are tunes my family would play and sing on weekends at family parties and get-togethers. But It's not all nostalgia either. There are plenty of original songs that put this record squarely in the moment for us.
Let's switch things up a bit. Walk us through your journey to using CBD. How did it start? Why do you love it?
Some friends made some tea with CBD and I loved it. The tea itself didn't have an overpowering taste and it had a nice calming effect. I've tried various forms of CBD throughout the years.
PuraPhy has recently launched Functional Mushrooms and psychedelics channels: Any experience with either of those?
Yes!!! I love [Psilocybin] mushrooms! I've done them a few times. Always a fun experience. Except this one time I took too many before going onstage. Let's just say I was a big fan of myself that night! I was very pleased with what I was doing. Then I heard the playback the next day. That was the end of that. Note to self: Don't take mushrooms on the day of a show—that includes you too drummers and bass players! [Laughs]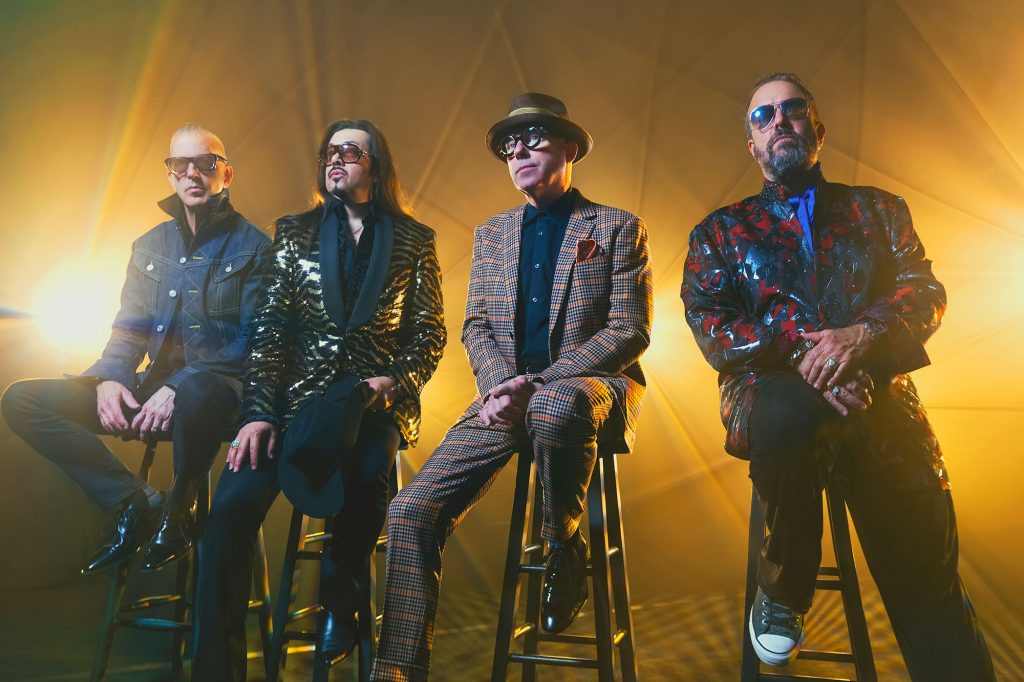 Back to the fun stuff: Rapid fire questions… a) Dream duet partner? b) Favorite classic song you sing in the shower? c) Karaoke go-to song? d) Have you ever met Donna Summer (random question, but she's my all-time favorite singer and since she lived in Nashville for so long, I thought maybe you've met)…
OK, here we go: a) Dream duet: Louis Armstrong; b) Shower: "I've Gotta Be Me;" c) Karaoke: If I have a duet partner, "Islands In The Stream;" If I'm flying solo, "Enter Sandman;" d) Donna Summer: I recorded a song with Donna Summer for a Summer Olympics project ["From A Distance," with Malo, Summer and Nanci Griffith], but, sadly, I never got to meet her.
2020 has been, by any standard, an epically insane year. Please tell me your happier prediction for all of us in 2021.
All of this will eventually pass. We'll have to go through some sort of healing and reconciliation process. We'll have to continue to have uncomfortable conversations and figure out how to fucking get along. Because when things return to a sense of normal and we can return to all the stuff that we love doing, it's going to be glorious.
Now, for the all the money… Complete this sentence… Cubans are better because…
Cubans are better because of that little extra shake in their bake! [Laughs]
---