Recently, as part of our regular (and totally cool) ranked list of CBD infuencers—The PuraPhy 20—this time highlighting professional athletes who successfully advocate for CBD, we included the former Philadelphia Flyers' enforcer, Riley Cote, who clocked in at an impressive No.12 on the coveted list sandwiched between UFC superstar Nate Diaz (No.11) and retired all-pro NFL quarterback Jake Plummer (No.13). Not bad for a rough-and-tumble hockey dude. As we took a second look at everything Cote had accomplished in the relatively short time since hanging up his hockey skates (and clenched fists) for good, we knew it warranted a deeper dive into the man of the hour and the company he co-founded, BodyChek Wellness (one guess how they came up with the name).
BY RICHARD PÉREZ-FERIA
Photography by Jim Trocchio
Tracking him down in this ridiculously horrific COVID-19 environment —at the height of the NHL playoffs, no less —took some doing, but, alas, we did it. Riley is a straight shooter who's not anywhere near as ferocious as his on-ice reputation may suggest. Yes, he's actually a softie with a gorgeous wife (Ashley) and two daughters (Kinsley, Kaia) at home. But don't confuse his decency and humanity with his palpable competitiveness: Riley Cote is here to win at everything he sets his mind to. You've been warned.
So, in his quest to challenge himself in his second professional act—this time as a 21st century business mogul—he's tackling CBD, functional mushrooms and even some psychedelics in myriad ways.
As a longtime hockey fan—and a fan of interesting people I want everyone in my life to get to know as well—I highly recommend you spend just a few minutes with this cat, this Riley Cote. The tough-as-nails professional hockey demigod turns out to be so much more than that. And I'm here for it. Check out this PuraPhy exclusive.
Hi, Riley. We'll get more details in a minute, but, briefly, what makes BodyChek Wellness the best option for customers?
High quality, originally grown, third party lab tested CBD and functional mushroom blends.
How has your career at the highest levels of professional hockey colored your world view and your business aspirations?
I realized towards the end of my pro hockey career that there was a better way to manage the grind of life and sport. The traditional ways for managing pain, inflammation, stress, anxiety, sleep and concussion-related issues weren't only outdated, but they had a tendency to induce addiction and dependency. So, naturally, I wanted to be the change and be on the right side of history, so I got into the plant medicine space. And here we are.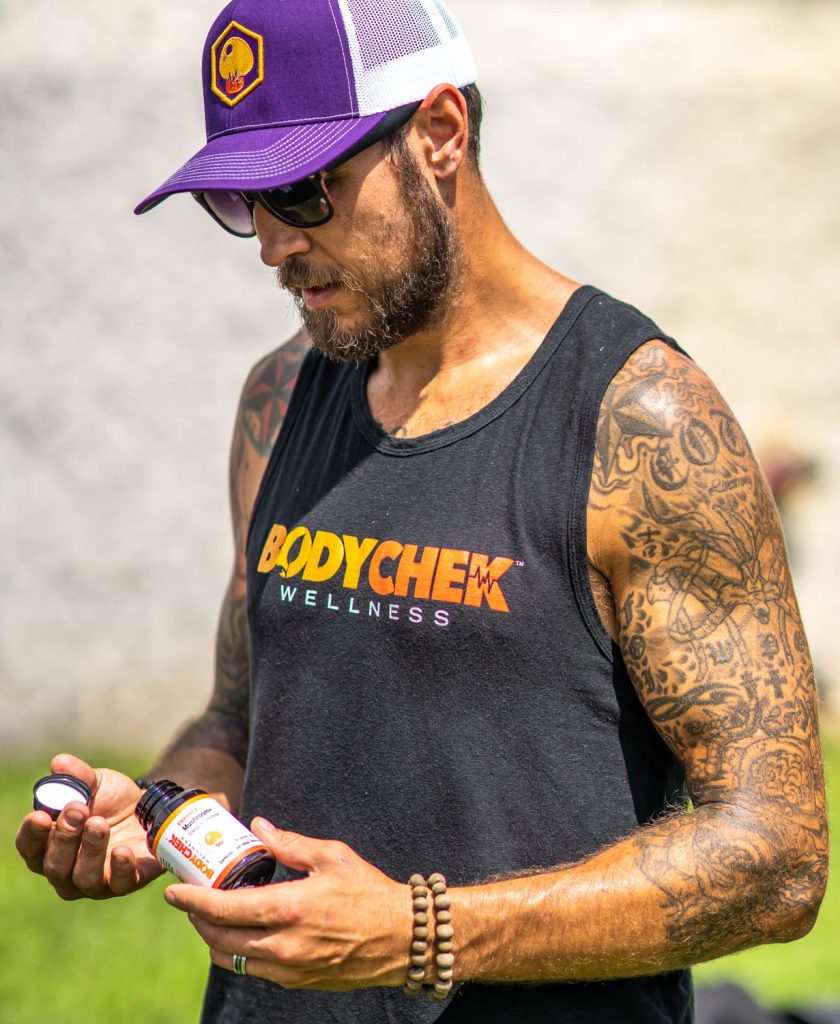 What's been the single biggest thrill of your NHL career? Is there one moment that stands out?
The biggest thrill of my hockey career was undoubtedly my first shift in the NHL. I'll never forget it. I remember sitting on the bench right before hopping onto the ice the first time and saying to myself, "You made it, Riley! All your hard work has finally paid off! Now let's go run someone!" [Laughs] You know, just the overall excitement of being able to live out my childhood dream and play in the NHL meant the world to me.
Let's talk pain. I personally know several retired NHL athletes who all share in some level of pain management and discomfort. Is this true for you as well?
There are all types and levels of pain you have to deal with throughout the grind of an entire NHL season. General wear and tear soreness, muscle tweaks, charley-horses, inflammation from blocking shots, and much more. In my world as a hockey fighter, I had to deal with another dimension on pain since I was bare-knuckle brawling 30 to 35 times a season. My fingers and hands were constantly inflamed and super stiff, my face was swollen a good chunk of the season, my neck was all jacked up and it seemed like when one thing healed, I was dealing with more inflammation and pain.
Sounds unbelievably painful. So, where did BodyChek Wellness come from?
Upon retiring from the game I love at 28, and leaving my last year of my one-way contract on the table, I was committed to healing myself holistically and instantly became a devoted student of the world of wellness. I read a book called Hemp For Health that changed my life. I began to understand and tap into the world of the various non psychotropic cannabinoids —such as CBD —as well as the world of functional mushrooms and other healing plants. I knew I wanted to be in this plant medicine space, and I began to build out what that could actually look like.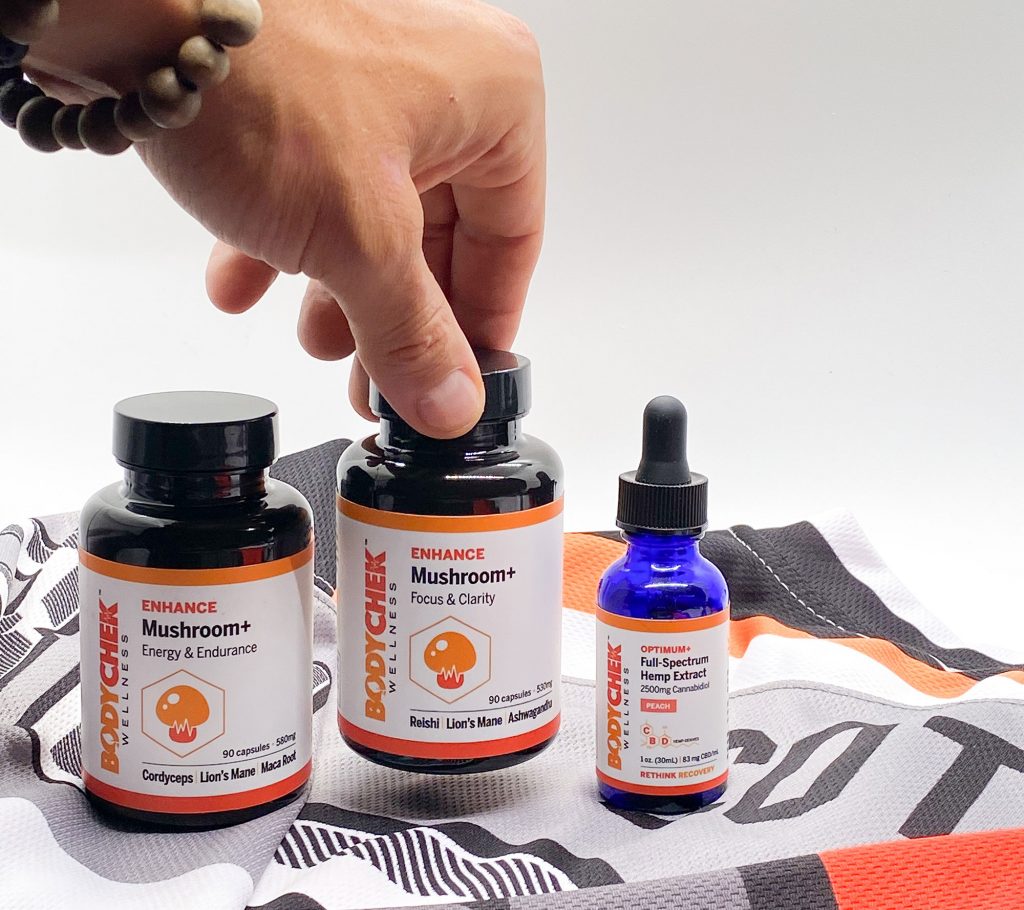 As far as CBD, what makes your offerings different?
As you know, the market is flooded with CBD. We wanted to stay true to the highest standards of quality we could and wanted to make that the emphasis not just be "moving product" or sheer volume. That being said, we do offer a couple unique products primarily our 10mg full-spectrum CBD and our six mushroom blend capsules as well. Blending the words of my two favorite things, hemp and functional mushrooms, seemed like the logical thing to do. A nice blend of the calming CBD with the powerful and adaptogenic world of functional mushrooms. We also offer a 2500mg full-spectrum CBD tincture which is a very concentrated and effective product.
Can the same be said about your functional mushroom products?
Since we've been getting so much positive feedback in regard to our CBD and functional mushroom blend, we decided to expand our mushroom line and added two new products that contain two functional mushrooms each and another adaptogenic ingredient that supports brain health. While there are clearly other companies doing different functional mushroom blends, our two new blends are clearly unique. Our Enhance Mushroom + Focus & Clarity is simply organic lion's mane, organic reishi and organic ashwagandha. Our Enhance Mushroom + Energy & Endurance consists of organic cordyceps, organic lion's mane and organic maca root.
Now, I happen to know you're also involved with an international group dealing with psychedelic therapies. Tell me about that.
Yes, Wake is an amazing and progressive mushroom company that's doing some remarkable work and I'm honored to be acting as an advisor and helping them build out their athlete division. Wake is doing psilocybin and sound clinical immersions in Jamaica with a very large focus on the integration component and selfcare. They're also positioned to be a leader in, not only psilocybin science, but functional mushroom science. They'll be engaging in at least three different studies at the end of 2020 that focus on mushrooms and different aspects of mental health. Wake is also cultivating psilocybin and functional mushrooms in Jamaica, psilocybin for their clinical immersions and functional mushrooms for their high-end product line.
Can you imagine playing for the Philadelphia Flyers this past season under the conditions necessary because of COVID-19?
It's hard to know exactly what it's like to play hockey in the COVID-19 era, but it has to be so different. Between the strict guidelines around taking temperatures and getting tested daily, to wearing a mask around the rink to playing in completely empty arenas, it has to be a bit of a culture shock. First world problems, I guess. I must say, it has been nice to see my former teammates and the NHL go out there and try to make the best of a very tough situation.
Throughout your career, you've always been regarded as the enforcer. Tell me the sweetest/softest/giggliest thing about you, tough guy.
[Laughs] Geez, Richard…that's a tough one! What I did and how I acted during my pro hockey career wasn't the real me—it was a role and I was the role player. While my perspective on life has changed tremendously, I've always been a pretty relaxed and chill guy. But, with all the work I've poured into healing and personal growth, I'm certainly much more tuned into my surroundings as of late. Also, having two young girls at home, I often find myself playing "family" and changing a seemingly endless supply of doll outfits. I also find self-participating in "dance parties" and giving my girls token "pony rides." [Laughs] Life is beautiful, man, and I'm just trying to enjoy and appreciate the things that truly matter.
---