Sun-grown with love from a Santa Barbara, CA ranch, beauty and wellness brand, Wellfounded, has proven to be a truly great find. The owners and caretakers come to the industry based on their own experiences—particularly an illness and recovery journey—that began with organic food and producing super-clean extraction methods for CBD and THC.
BY MARCO MEDRANO
Personally, I've been using and writing about CBD—both beauty and wellness products and brands—for quite a few years now. Starting slow, I found myself cautiously taking 25-50mg 2-3 times a day, based on the measurement scale of a given bottle's marked dropper (1/2 to 1"). As I started to learn more about adaptogens (which can often positively address more than the inflammation we're taking it for), I started adding a CBD capsule a day in addition to tincture drops.
What I love about Wellfounded is that their CBD tinctures have an escalated measurement system. Meaning Restore Tincture with a 20:1 ratio (1000mg CBD + 50mg THC), Relief Tincture with a 1:1 ratio (600mg CBD + 600mg THC) and the Relax Tincture with a 1:5 ratio (200mg CBD + 1000mg THC). In capsule form, the same escalating potency applies to Restore, Relief and Relax (with varying ratios).
These guidelines help set personal dosing and tracking parameters. Not for getting high, but for getting relief (and for budgets) and really come in handy when taking your wellness throughout the day—toggling a busy 24 hours with tinctures and capsules and (maybe) a bit more at bedtime.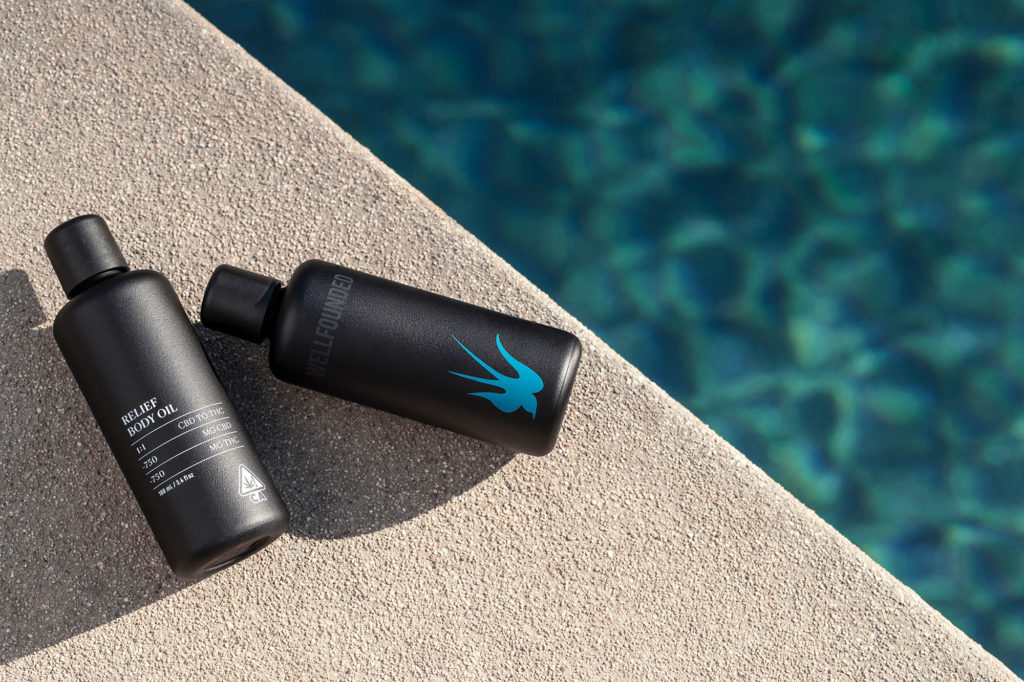 Since what goes on our skin, goes in our skin, I'm loving the face and body offerings from Wellfounded. Relief Body Balm, Relief Body Oil and Relief Face Oil are terrific sealers on top of other facial serums and moisturizers or as a stand-alone facial healers of redness, inflammation and cellular recovery. In other words, these products are seriously anti-aging. Naturally "active," the Wellfounded offerings absorb to a dewy and matte finish with a slight bounce.
And if you just can't get enough of CBD in every aspect of your beauty regimen, Wellfounded Eau de Parfum spray is a very pleasant surprise (with 90mg CBD). This worthy, luxe fragrance weaves in the scents of green hills and sea breeze with valley oak, eucalyptus, coastal sage and cannabis sativa. I use it as my "deskside" fragrance (don't you have one, too?).
In what's becoming a crowded category, CBD beauty and wellness brand Wellfounded comes right from the source—clearly with love and impossibly exacting standards—resulting in a superior, elevated beauty experience. Wellfounded.com.
---