Football star, entrepreneur, family man. Nico Marley has no shortage of talent, heart or ambition.
Before launching CBD company, Lion X, Marley first focused his energy into football. After high school, he was recruited by Tulane University, where he excelled both on and off the field. He says his position as a starting linebacker demanded physical endurance, dedication and drive. Marley's hard work soon caught the attention of the NFL, and in 2017, Nico signed with the Washington Redskins. However, in the end, it was Nico's business management and marketing degree, not his athletic excellence, that would serve as the foundation for his future business endeavor.
After leaving football for good, Marley returned to his roots. He worked alongside his father at the family business, Marley Coffee, while he figured out his next move. As the grandson of Bob Marley, Nico has never been a stranger to hemp and cannabis. Inspired by his family and his experience using CBD to aid sports-related injuries, he decided it was time to make his own mark in the world.
In April 2020, Marley did that which few are bold enough to do: launch a business during a global pandemic. Marley says he hopes Lion X will empower people to embrace restorative wellness, find their inner strength, and strive to be the best version of themselves. He says that before you can dedicate yourself to your purpose, you must first take care of your mind, body, and soul. And he says he hopes that Lion X's gummies, soft gels, oils, and balms will help consumers unleash their inner lion.
BY SIMONE TEAGUE
First off, how are you? Have you been taking care of yourself during these unprecedented times?
I've been well, thank you for asking. I've been focusing on Lion X during this time and ensuring everything works the way it should. It's also essential to me to keep my body, mind, soul right by working out every day, keeping up with my routines, and taking my CBD.
You chose to launch Lion X in the middle of this mess. In what ways how has COVID-19 impacted the business?
Initially, we planned on launching the first week into the pandemic. When things began changing due to COVID-19, I put a halt on all business for about a week. I needed time to sit down and think about what my next step was going to be. I wanted to make the right decision for my business as well as our customers. I concluded that I needed to give back something positive, especially during a time like this. We were planning on doing an Earth Day launch event in New York City to showcase Lion X, but since we couldn't, we thought we would still launch on the site so people would be able to purchase quality CBD during this difficult time.
When did you start using CBD? What drove you to create your own line of products?
As most people must know, herb is a part of my family history. We've been using herb as a healing method for decades. My grandfather (Bob Marley) said years ago, "Herb is the healing of the nation," and my family has lived by that saying ever since. My father would always say if you're going to use the plant, make sure you use it for the right reasons. Not just smoke to get high, but to connect to your mind, body, and soul.
After I was cut from playing for the Washington Redskins, I wanted to find my new purpose in life. I worked with my father, Rohan Marley, for a little while on Marley Coffee, and I quickly realized that I wanted to create my own legend. I'm proud of everything my family has done, and I want to continue to add value to our name.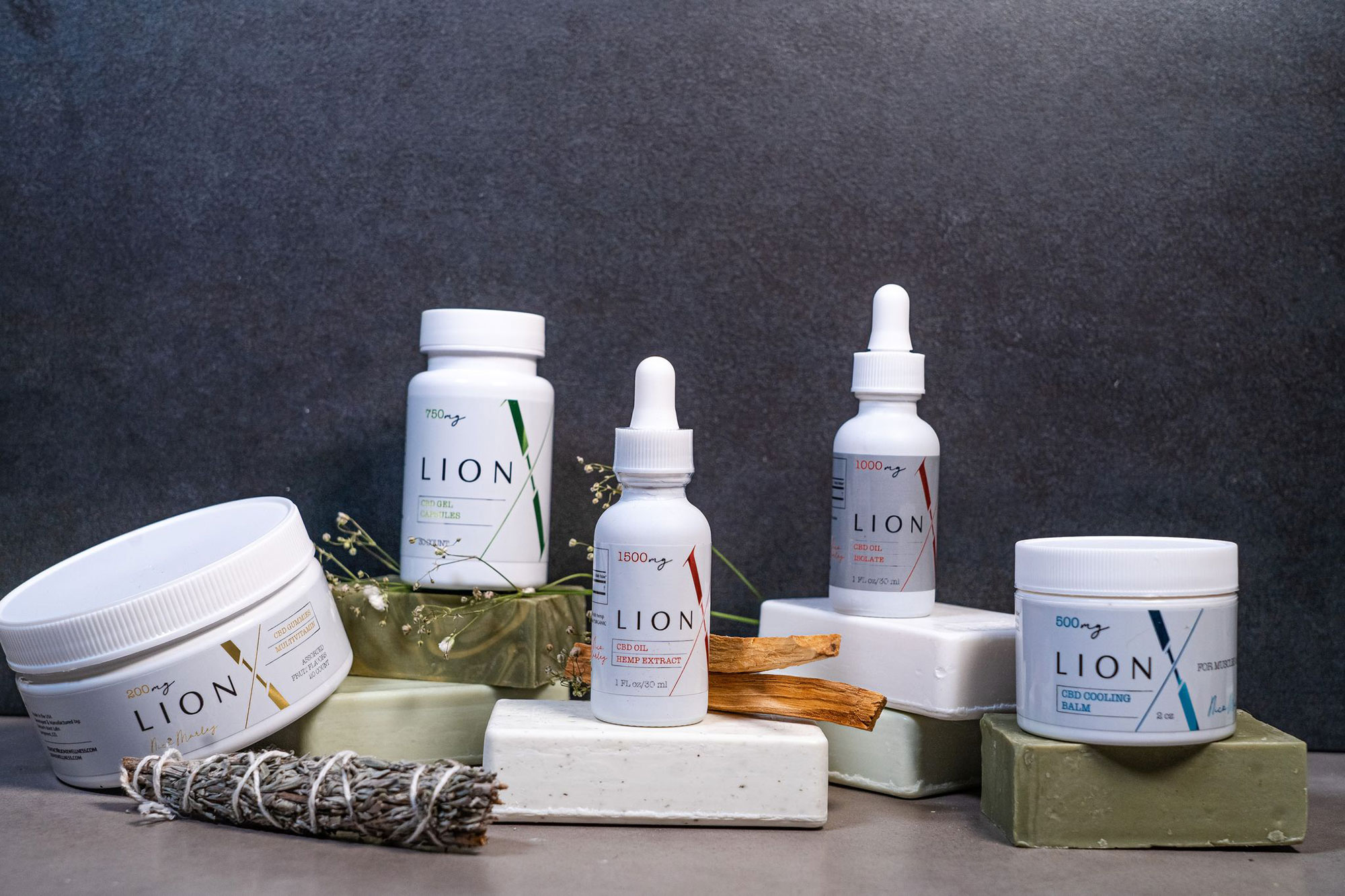 So, I started to think about my passions, and what came to mind is my love for performance, the collective impact we have on one another, and my family history. I started using CBD as a way to boost overall wellness, as well as something that would help me physically recover from my games. Football takes a lot out of you, even while practicing, and I wanted to consume and use natural products for recovery. I then created Lion X, a CBD brand that incorporates a modern evolution of my family's philosophies and my passions for the game, performance, and overall wellness.
What sets Lion X products apart from competitors?
At Lion X, restorative wellness is both a philosophy for living your best life as well as a guiding principle that encompasses healing the body, mind, and soul from within. To do so, we believe our products must be ethically made, locally grown, and organic. It allows us to provide our customers with first-class quality CBD. When it came to business, my family has always maintained a high standard. Lion X has ethically produced products, used sustainable resources, and pay fair wages. Our goal is always to take care of our people. Those standards mean a lot to me, and I feel like with my own brand, I had to meet those standards, too. I want to give back the best product I can for our customers.
We also have something the other CBD brands don't. We're the only brand that can weave together top-quality products, athleticism, entrepreneurship, and my family's heritage—creating a singular, modern wellness brand made for athletes, fitness enthusiasts, and everyone in between.
What's your favorite Lion X product?
I use Lion X every day, and I love each product, so it's hard to pick a favorite. It depends on the situation and the time of day. In the morning, I take a capsule to start my day and promote focus to complete my daily tasks and goals. After a workout, I use the cooling balm on my legs and sore sports to improve recovery—I get instant relief. Throughout the day, I'll consume a gummy or two to maintain focus. It's also a plus because they taste so good that I actually have to keep them away from me. Lastly, before bedtime, I use our tinctures, which help promote my overall wellness and help me sleep better.
What does your dad think of Lion X?
My dad, Rohan Marley, loves everything about Lion X. My whole family supports me. He really likes that I'm on the entrepreneurial path. He's a businessman himself, so he loves that I'm following his footsteps, first with football, and now with launching a business.
Tell me about the Lion X tagline: "There is a Lion inside all of us." When did you unleash your inner Lion? What role did CBD play in that personal journey?
Unleashing your inner Lion is all about being the best version of yourself. I've unleashed many different Lions in my life. In football, it was my aggressive Lion, the one that's willing to win on the field by any means necessary. When I moved away from the game, I was struggling to find a new inner Lion, the one that motivated me to stay strong during uncertainty. After spending some time in New York City with my father, that Lion started to emerge, and I was beginning to figure out a new path for myself.
When it comes to CBD, I've been using it for a while, even back when I was playing football. It helped me get focused as well as recover after games. After leaving the game for good, CBD still helped me in real ways. Whether it helped my post-workout regimen or promoted mental clarity, CBD very much stayed part of my daily routine. That's why Lion X just made so much sense to me. With my love for CBD and the history of herb in my family, Lion X was really the perfect storm.
Where's Lion X in 2025?
I want to be one of the most trusted brands in the CBD space. I see us building meaningful relationships with people that are working in this space and doing it the right way. I also see us retailing with more businesses. We want to reach as many people as we can in any way possible. Lastly, I want to make sure we're helping our community, and in the next few years, I would like to see our company creating partnerships with foundations that share the same ideals as we do.