When my colleague Bill first told me about this "incredibly scary COVID-19 story" that his friend "Dani" had just endured, I was interested in learning more about it and why Bill thought it may be a good story for PuraPhy. First, I found out that Dani was, in fact, stunning longtime Hollywood actress Danielle Vasinova, a striking figure in countless memorable TV shows (more on that in a bit), but also the tough as nails ex-girlfriend of a certain Shark Tank-er, and my curiosity was definitely piqued. Then, I heard what actually happened to her—oh, boy!—and I knew then that everyone should hear this story, too.
BY RICHARD PÉREZ-FERIA
First, some context. Danielle Vasinova, of Czech, English and Cherokee decent, was born in Connecticut and grew up between an idyllic farm life in Connecticut and the artistic world of New York City. Her grandparents met while in a detainment camp in Germany fleeing from the newly communist Czechoslovakia and moved to Manhattan as soon as they were able to secure a sponsor. After learning about a lakeside town in Connecticut with a thriving Czech community, the family settled there.
It was, in fact, Vasinova's grandmother who gave her the impetus to even dream about a possible career in show business. "My grandmother, when she first arrived in this country, would go from acting and singing and dancing classes to scrubbing toilets because she spoke no English and had to give up her career aspirations in the arts. I have since carried her flame. My grandfather got a job working for Chase Manhattan in the city. It's quite the American Dream story," Vasinova says.
Here's the thing: Everyone in Vasinova's family seems to have a connection to flying, with her grandmother being the notable exception. In fact, Vasinova's mother was a longtime manager based at the airport. "I grew up in the '80s, so, thanks to my mom's job, I was able to travel a lot during what was really the heyday of commercial flying. I remember, I'd go up and down the aisles and give out the little plastic American Airlines wings and people would give me tips and I'd come back and show my mom. But, my grandmother and I are the only entertainers in the family I'm aware of because everyone else is in aviation," Vasinova says.
"In school, I was always kind of a lone wolf and, frankly, kind of a weirdo. Eventually I forced myself to try out for the cheerleading squad and actually got it. And, just like that, within two years, I was the youngest captain the school ever had."
It's easy to imagine how Vasinova's formative years may have been popularity-driven days filled with homecoming queen coronations and such, but she flatly rejects that fantasy. "Oh, no! Not even close," she says. "In school, I was always kind of a lone wolf and, frankly, kind of a weirdo. Eventually I forced myself to try out for the cheerleading squad and actually got it. And, just like that, within two years, I was the youngest captain the school ever had."
At home on the farm, Vasinova developed a lifelong love of horses, and she says that, too, helped her tremendously cope with the pettiness and terror her high school peers sometimes inflicted on her. "I ended up dating the captain of the basketball team and some of the popular girls in school were mad at me for that and were super mean about it. At a party, these same girls scratched things into the hood and down the side of my very first car—they completely wrecked it," she says. "They were just really, really mean. So, yeah, high school for me was a lot of ups and downs, for sure, and I was just always thankful that I had my horses because I would use them as my escape."
When Vasinova was 14, during one of her many trips to Manhattan with her mom, she was approached by a modeling scout during a cheerleading benefit for the Muscular Dystrophy Association and, Vasinova says, "this woman just came up to me and said that she wants to test me to come to New York City; so, that's the beginning of my on-going modeling journey and right from there, I started doing commercials as well."
After being offered a spot as a New England Patriots' cheerleader, the freezing temperatures in the outdoor stadium in Foxboro, MA and the whopping pay of $100 per game convinced Vasinova to head west for Southern California. When Vasinova told her parents she was leaving the nest and heading to LA, they were nervous at first, but then something unbelievable happened. On one of her flights, Vasinova's mom met someone who lived in Los Angeles and after telling her about her daughter Danielle's upcoming move, the woman told Vasinova's mom to have Danielle call her when she arrives in town and Vasinova's mom handed the card to her and instructed her to call. Turned out, the lady Vasinova called was the casting director for the ratings bonanza of a soap opera, The Young And The Restless.
"This casting director happened to be originally from Boston, we talked for more than two hours and then she asked me to do a cold read and after giving me an adjustment, she offered me the part and and that's when I became a working actress," Vasinova says.
From her start on TYR, Vasinova has flooded our televisions with appearances in some of the most popular, even iconic, shows in the past three decades including Dexter, The Kominsky Method, Nip/Tuck, Ballers, MacGyver, The Practice, Rules Of Engagement, The Philanthropist, Buffy The Vampire Slayer and on and on and on. My entire TV-watching life, essentially. Though Vasinova has also starred in plenty of films and indie projects, including Red Dead, Shinjuku, To Hell With A Bullet, Bucky Larson: Born To Be A Star, Should've Been Romeo and many more, it's her impressive and prolific work in television that boggles the mind. This woman has been b-u-s-y.
So, after a lifetime of TV, if, say, Netflix approached Vasinova for a dream project, what would that look like, I wondered. "That's a great question, Richard," she says. "So, I feel like I could go and do some kind of psychological thriller with Brad Pitt—I love him. Or, I don't know, I could also do something like a like Fight Club-meets-Misery. Is that too crazy?" Vasinova asks, laughing. I suggest, perhaps, a mad cap comedy where she's cast with, say, Ryan Gosling as a completely incompetent private detective who somehow always solves the crime regardless of how much she messes up, much to Gosling's character's dismay. "Oh, my goodness, I love that idea!" she says. I do, too.
OK, I couldn't wait any longer to hear the COVID-19 story, so I just asked her: "Danielle, what happened to you exactly?" Vasinova responded quietly: "So, here's the deal, Richard. On December 12, 2019, I flat lined for two full minutes. I died."
Let her explain. "It came on so fast and so hard and I was in LA and I was going a million miles an hour and then I had to go to this world premiere. When I arrived to walk the carpet, I'm feeling really, really weak, but I get through it. I'm there with my publicist and another actress girlfriend of mine, and she takes one look at me and says, 'Danielle, what's going on?' I said, 'Come on, let's go downstairs to the back, underneath the theater.' And so, we go down and I just lay down on the floor. But that floor was the only thing that I wanted to lay on because it felt cold to me. So, I was just lying there, and all of these people kept coming in you know and my friend said, 'I'm going to try to see if we can take you out of the back.' So, we went out the back in hopes of sending me home since the very next day I was scheduled to go back to Vegas because I had to shoot a commercial for MGM. But, then, I started to feel weaker and weaker and weaker. It was scary."
What got you through? "I come from so many strong men and women in my family—warriors, really—I just have this drive, this inner burning fire that comes from deep within."
Did you go to the hospital then?, I ask. "Well, no. Since I have my car in LA, my friend ended up flying in from Las Vegas to drive me and my car back to Vegas so I could make this commercial," Vasinova said. "Because traffic was so bad, what would ordinarily take three-and-a-half hours, took more than five to get to Vegas and at that point, I needed an IV that was waiting for me upon my arrival at the house where I was staying. I was on this IV for more than an hour and that didn't help at all, so I asked my friend to rush me to the hospital because something just wasn't right. Only minutes after I arrived at the hospital I flatlined. A woman named Ruby jumped on top of me and began doing compressions for two full minutes before being brought back to life and my heart started beating again.
The story is hardly over from there.
"Earlier at the urgent care hospital in LA, they said I had strep throat and gave me a Z-Pack. The very next day in the Vegas hospital, that's when I 'died,' with complete organ failure: heart, lungs, kidney—all of it, due to H influenzae, strep throat and pneumonia all brought on by COVID-19. I had all of these with these long tubes inside me. What they were pumping out of me looked like the consistency of oatmeal; it was so thick. Of course, my mom was completely freaking out and she flew from New York and when she arrived at the hospital, the doctors couldn't tell her that I was going to make it. They felt they didn't think that I was going pull through. Honestly, Richard, the doctors thought that I was going to die. That was it for me. But, somehow, on New Year's Eve, I was finally discharged, leaving all the horror behind in 2019," Vasinova says.
But did Vasinova actually have COVID-19? "When COVID-19 exploded globally, I knew for a fact that was exactly what I had. Of course, when I had it, in late December, there wasn't a test for it yet (I'm now negative, of course), but I definitely had COVID-19. No question about it," she says.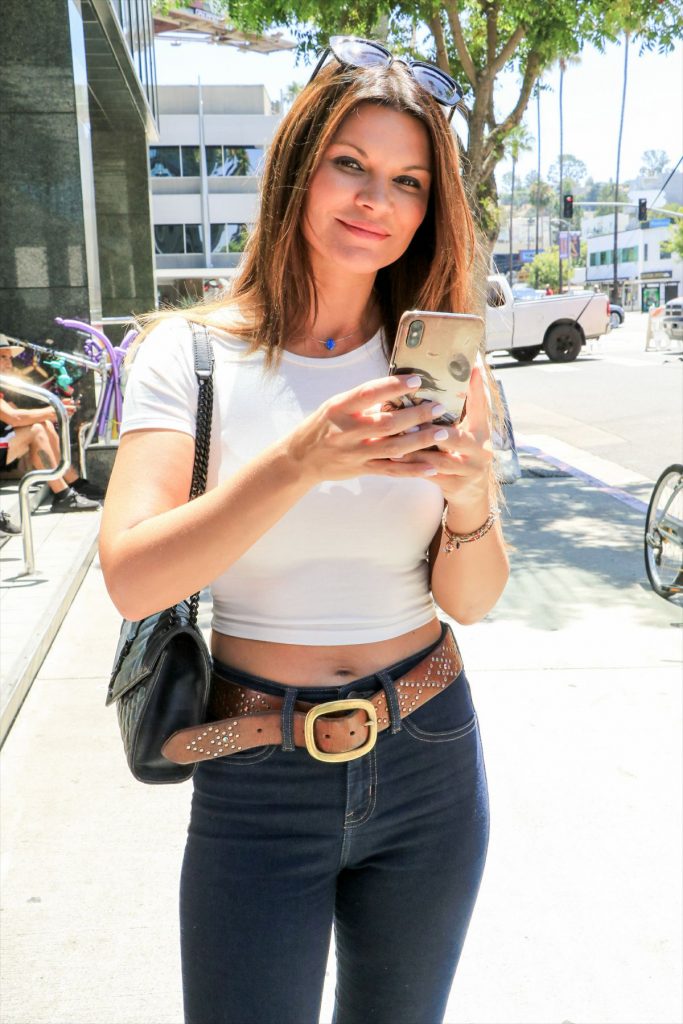 Tell me about those darker moments, when no one was giving you much hope of recovery. What got you through? "I told you the story about my grandmother from Prague and I come from so many strong men and women in my family—warriors, really—I just have this drive, this inner burning fire that comes from deep within," Vasinova says.
I wonder how and even if her use of CBD products came into play in her life prior to this harrowing health emergency and after. "Well, throughout my life I've suffered with varying stages of anxiety and depression, and CBD has been instrumental in helping me over the many years," Vasinova says. "After the health scare, my whole-body chemistry was completely screwed up because they had me on something like nine unbelievably strong medications and for more than four months I had to ween myself off of that, so I didn't even take anything for a few months after," she says. "Now, I'm just starting to again take CBD because I finally weaned myself completely off of everything else. But, even something like my skin breaking out for the first time in my life. It seemed like my whole-body chemistry was just trying to recalibrate itself again."
After this sort of trauma personally—and what the trauma the planet is currently going through—I ask Vasinova about the immediate future, or even if she's thinking about that now. "Yeah, I think about these things every day especially going through what I went through and then leading up into this global pandemic—I mean, it's been one hell of a year, that's for sure. So, I've started to write a book and I'm developing a project as well. I've always had an entrepreneurial spirit as well as being an artist and so I'm doing a project that I'm very excited about," she says. "And, of course I want to return to film and to television, but I have some ideas and projects that I want to do on the entrepreneurial side as well. It's all very exciting for sure."
Next time you're in front of your television flipping around to see what's on, more likely than not, you're bound to catch this eternal beauty making her presence known on your screen. After spending time with Danielle Vasinova, I don't think I'll be forgetting her anytime soon. After all, the lady kicked COVID-19's ass. How's that for memorable?
---